Follow here to get updates on CASHP PhD student Elaine Miller's summer fellowship in Japan at the Center for International Collaboration and Advanced Studies in Primatology.
--
Elaine in Japan – JSPS Blog Post #8 - August 30, 2022
My summer fellowship in Japan has ended. I had such an amazing time! I explored a new country, made new friends and colleagues and I learned a lot about chimpanzee cognition. I can't imagine a better way to have spent the summer and I am very grateful to Adachi sensei, Dr. Anthony Tosi and everyone at the Japan Society for the Promotion of Science for all their support.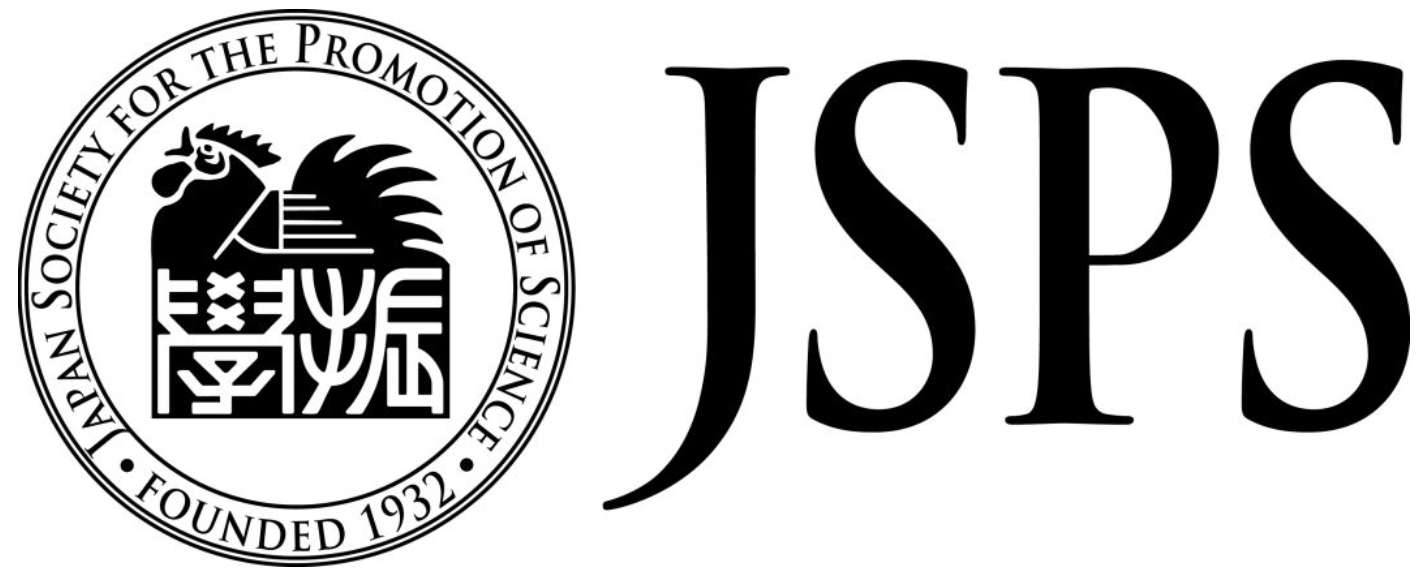 For my last weekend in Japan, I went on a spur-of-the-moment trip to Kyoto with some of the other international students at EHUB: Ken, Sanjana, Ozan, André, Vanessa and Josue. We stayed in a capsule hotel, which is a room with a bunch of sleeping spaces or capsules. Each capsule has a twin-sized bed and a small light, and each capsule comes with a nightgown. On Friday evening we went out for pizza and drinks and then we enjoyed some of the nightlife in the city. When we returned to our capsule hotel, we all got dressed in our matching nightgowns and went to bed. On Saturday morning everyone was tired, but I bounced out of my capsule after a few hours of sleep because it was my last chance to explore more of Kyoto. I walked over to the Kyoto Imperial Palace, which was the residence of Japan's imperial family from 1331 to 1869. I enjoyed a guided tour where I got to see everything from the carriage porch to the Seiryōden (Hall of Ceremonies). I also visited the Kyoto Sento Imperial Palace, which is a secondary palace complex that is surrounded by stunning Japanese gardens. The best part of the gardens is the waterfowl that you can spot. After a long day of visiting Kyoto's palaces, I reunited with my friends, and we all went out for Indian food. Then we took an evening stroll along the Katsura river.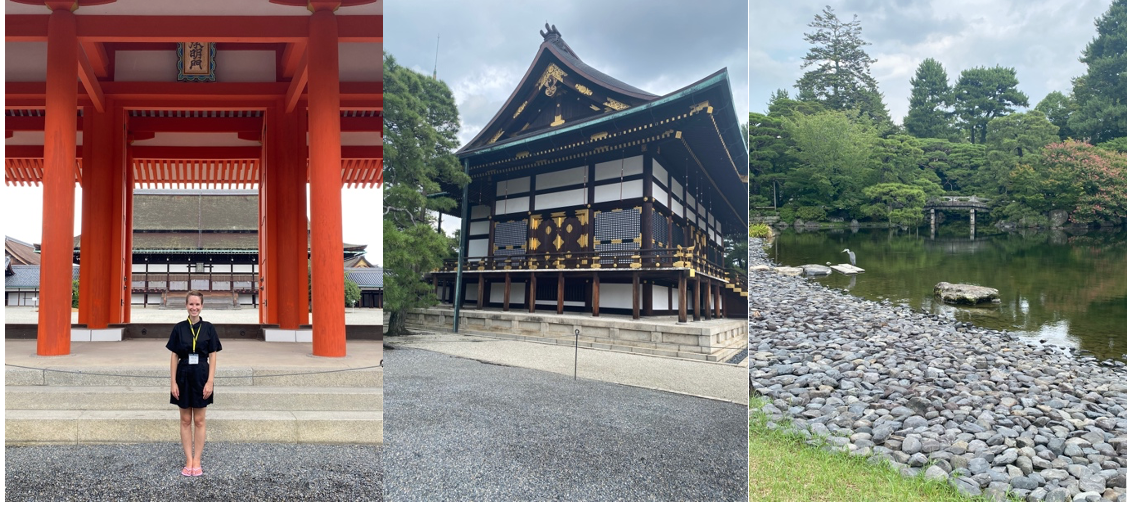 Sunday morning, we all got up, got ready for the day and went for coffee. Ken, Sanjana and I took a taxi to visit the Kinkaku-ji Temple, which is a golden Zen temple of the Rinzai Buddhist denomination. It was stunning – the most beautiful piece of architecture I have ever seen. After visiting the temple and the surrounding gardens, we all met at a Moroccan restaurant for lunch. The chef came out and asked us where we are all from. When I told him I was from California he talked to me about how lots of Hollywood films were made in Morocco and how Morocco was one of the first countries to recognize the United States as an independent nation from the British Empire. From there, we decided to return to Inuyama. On the way back, we stopped at a thrift store and went shopping for ceramics, clothes and other little household items.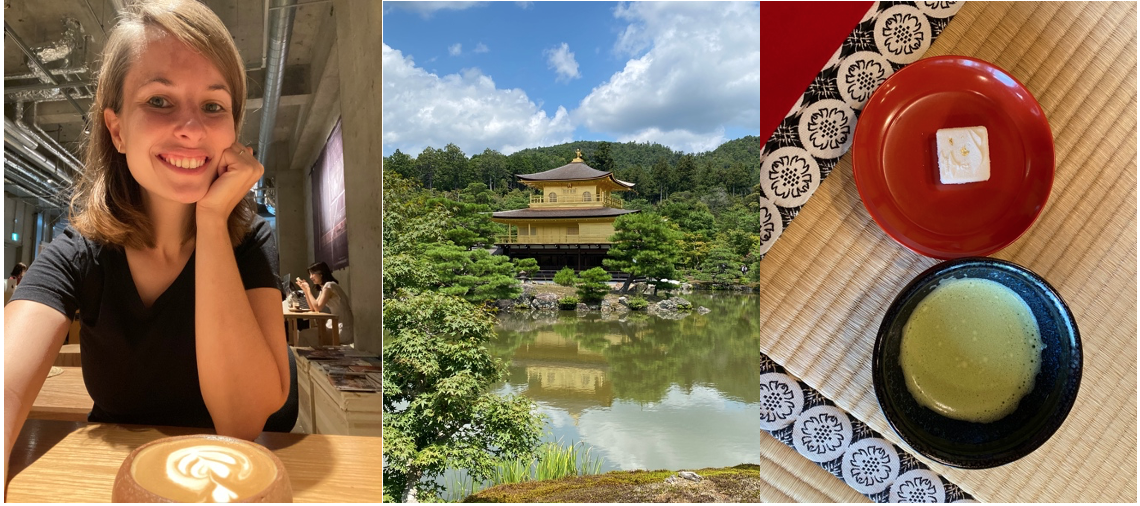 My last few days in Japan were a whirlwind! I continued running experiments with the chimpanzees. I hope they are learning the association between the three colored rectangles and the video content that they represent. Once they make this association and are habituated, then we can identify any preferences they have for social, nonsocial and environmental content. Unfortunately, my fellowship period ended before I could collect all the data I need. I hope that someone can continue the project to see where it leads. In any case, I am thrilled with my new experience, and I know it's made me a better scientist. I would love to come back to Japan to continue the project I have started or collaborate on other projects. 
Thanks for following along on my adventures as a JSPS summer fellow!
Elaine
P.S. If anyone is thinking about applying for a JSPS fellowship, I am happy to elaborate more on my experience and answer any questions!
--
Elaine in Japan – JSPS Blog Post #7 - August 5, 2022
Yay! I have recovered from COVID and I am out of quarantine! I am so happy, but at the same time, very sad because I lost precious time in Japan.
Quarantine was hard. As I was inside my room, I looked out the window and the weather was so perfect for going out to visit, but I couldn't leave. I was not particularly productive during my quarantine either. I felt too anxious to focus so I doodled a lot. On my fourth day of quarantine, a giant huntsman spider jumped out of the shower and that was really the most excitement I had. He was subsequently named Bob Jeffey and although I feared him, I enjoyed his company. I found him particularly cute when he tried to hide from me because I could always find his little legs wrapped around the edge of a box or along the wall from behind the curtains. In any case, no one I was in contact with has had symptoms or tested positive and I am very happy about that.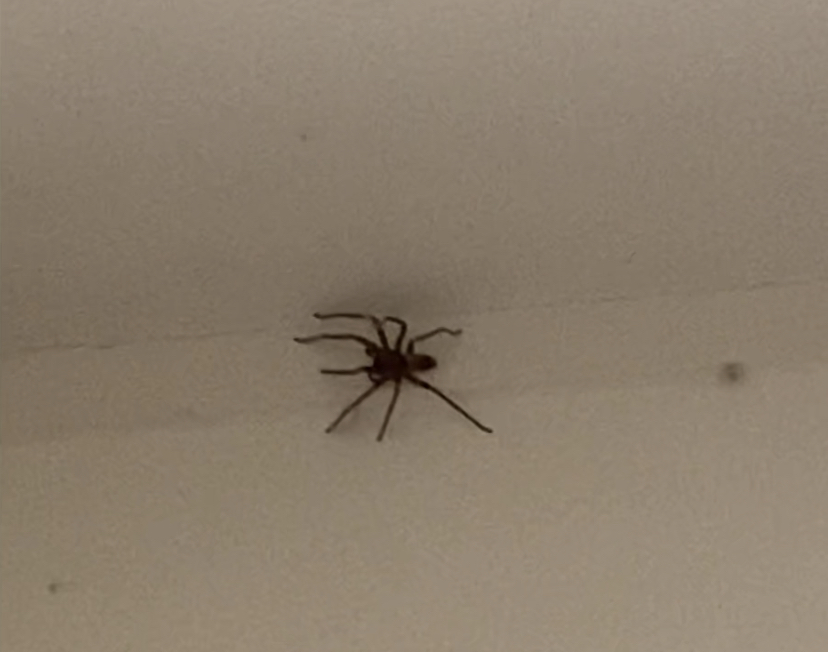 As my COVID quarantine ended, I got back to work. I put together all my video clips from Tama Zoo including those that I found online and those that I collected myself. Adachi sensei and I worked together to plan the video sequence files and he did a bunch of coding to make a program that would run the video sequence files the proper way for the experiments. After adjusting the resolution of some clips, converting file types and triple checking everything, we were finally ready to do experiments.
The experiments are simple. A chimpanzee enters the skylab, which is a space built into the fourth floor of the chimpanzee enclosure that is equipped with computers to run cognitive tests. Immediately, I put on the program for that chimpanzee. The chimpanzee touches a colored square on the screen to initiate the trial. Then, three colored rectangles appear each representing a different type of video content: 1. social interaction between chimpanzees such as two individuals playing together, 2. nonsocial action of chimpanzees such as two chimpanzees playing independently, and 3. the environment where these actions take place such as the giant climbing structure. After the chimpanzee, chooses a video (any video) they receive a little banana pellet. I have run several tests with multiple chimpanzees, and I look forward to seeing if they prefer one type of video or another. The data from experiments like this one yield a deeper understanding of what a chimpanzee finds rewarding. Are they motivated to observe social interactions or are they more motivated to observe the environment? Why is one or the other of more interest and how does this inform their behavior? One additional benefit of doing experiments like this one, is that they are enriching. I hope the chimpanzees enjoy themselves as it could be argued these tests are the human equivalent of watching television and eating treats.
As my time in Japan is ending, I hope to collect a bunch of data and keep visiting this beautiful country.
More next week!
Elaine
--
Elaine in Japan – JSPS Blog Post #6 - July 25, 2022
Time is going too quick in Japan and before I leave, I am realizing how much I will want to come back. This week was hard because I got sick, but I am hopeful that I will recover quick and be back at it.
This past weekend I did my JSPS HomeStay. This is a JSPS program that matches its fellows with a local Japanese family. Then, you spend the weekend together as a cultural exchange. I was matched with the lovely Matsuno family; a mom named Mari and a dad named Yuichiro, and their three sons ages 7, 5, and 2. They picked me up from EHUB and had the most precious sign to welcome me! On Friday night, we played MarioKart and ate dinner. Mari made many wonderful things to eat including corn, soup, salad with hard-boiled egg, egg custard, rice with fish, natto and seaweed. It was all very good! On Saturday, we had breakfast together, which was soup and a pickled plum riceball. After, we played and watched TV for a while until it was time to have lunch. The Matsuno family treated me to a famous unagi restaurant. I had never eaten unagi, so it was exciting for me! From there, we went to the aquarium, which was tons of fun! The kids and I fed lettuce to tortoises and little feed pellets to fish! We got to see all kinds of cool aquatic animals. The kids were very sweet and insisted on holding my hand through the aquarium. For dinner, Mari showed me how to make okonomiyaki, which is like a salty Japanese pancake. I LOVED it! I look forward to recreating it at home. On Sunday, we had breakfast together. This time we had soup and toast with apple jam. Mari showed me the Tanabata Tree in their home and I got to add my wishes to it! For lunch, we went to a restaurant where we had soba and tempura! Super good! In the afternoon, we visited museum Meiji-Mura, which is an open-air architectural museum. It's like an old-town attraction where you can see how an old Japanese town was. There are old buildings, games to play and little shops. After, Mari very kindly took me back to my dorm but not before she gave me a parting gift of a tea towel, Japanese fan, and some teas. It was truly a fantastic weekend. I feel extremely grateful to have been welcomed so warmly into the Matsuno home.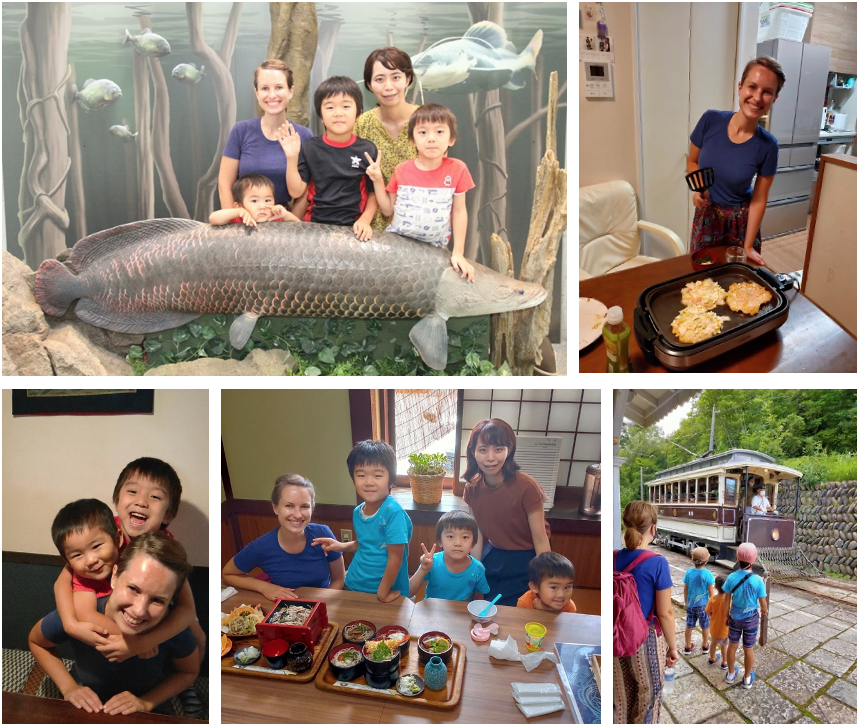 After, my weekend with the Matsuno family, I traveled to Tachikawa, which is a few hours from Inuyama, to visit the Tama Zoo. I arrived late on Sunday evening after taking the Meitetsu to Nagoya, the shinkansen to Tokyo, and the JR Chūō to Tachikawa. On Monday morning, I woke up, got dressed and went to the train station to get to the Tama Zoo. I stopped at a bakery in the train station where I had a peach pastry, some cheese balls, and a matcha latte. I like matcha now. From there, I meandered to the monorail stop and made it to Tama Zoo. I spent all day trying to record the chimpanzees, and I got some good footage, yes, but it was more difficult than I had anticipated. These chimpanzees do what they want and that frequently does not include my specific target behaviors, within my view. Eventually, I came back to my hotel and ate a lemon jelly and rested in my room. I finally came out to go to an Indian restaurant where I had chili paneer, salad, and naan. It was delicious! The next day I woke up and went back to Tama Zoo to record the chimpanzees. They were out and about more than they were the day before and I captured more footage. Even though I didn't get to record as much as I wanted over the course of my two days at the zoo it was such a joy to see these chimpanzees en vrai as I had spent so many hours watching footage of them and making clips for my experiments.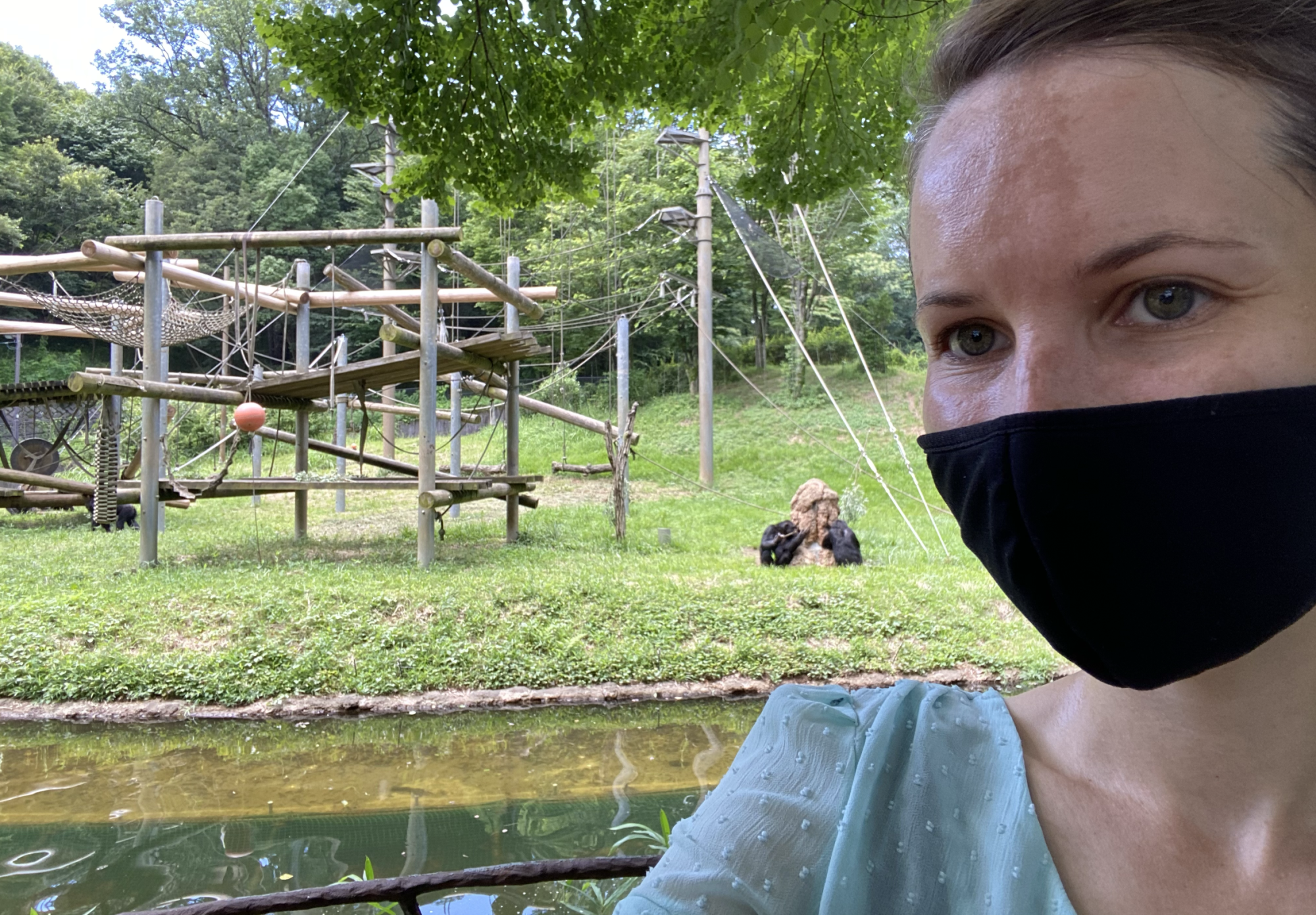 I arrived back in Inuyama around 8:45pm on Tuesday and I didn't know it then, but I would not be coming out for a while. The next morning, I woke up feeling ill with a sore throat and very fatigued. I took a rapid COVID test, and it came up positive. It's been five days and I haven't set foot from my room. No one on campus has a positive test or any symptoms and the Matsuno family says they're all in good health too. I am most happy about that, but I am also feeling better now and a little anxious to leave my room soon!
More next week!
Elaine
--
Elaine in Japan – JSPS Blog Post #5 - July 16, 2022
I am more than halfway through my time here in Japan and there is still so much to see and do!
This past weekend was incredibly rainy – storms galore! Sunday afternoon the thunder, lightning and rain finally stopped, and I could go out to visit Japan! I decided to go to Nagoya to visit the Nagoya Castle, which is beautiful and also includes the Hommaru Palace, which houses stunning gold paintings. Here, I enjoyed matcha ice cream with red bean and mochi!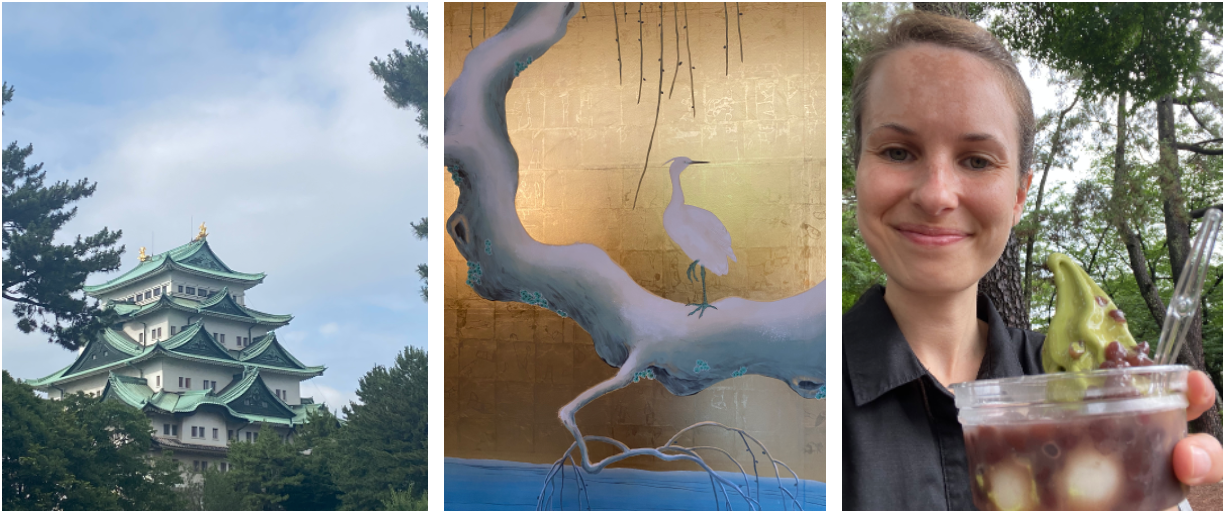 After seeing the castle and palace, I visited Atsuta Jingu, which is a very special shrine in Nagoya. I got to see a sword-making demonstration there. Interestingly, the Kusanagi-no-tsurugi is housed in the Atsuta shrine. This is a legendary sword in Japanese folklore and one of three sacred treasures of the Imperial House. The shrine had roosters that wander around all the buildings and people love this! I saw several people (not just tourists) taking photos of the roosters and standing by to watch them as they clucked around one of the greatest centers of worship in Japan. For dinner, I went to a vegan restaurant called Vegi Kitchen GuGu where I ate a bunch of really delicious mapo tofu and salad.

This past week, I have continued to collect and edit even more video clips for my experiments. I have also been planning my trip to the Tama Zoo to collect some of my own footage! Yay!
More next week!
Elaine
--
Elaine in Japan – JSPS Blog Post #4 - July 9, 2022
It's already my fourth week in Japan and I am enjoying every second of it!
This past weekend, my friend Bethan and I went to Kyoto, which is the former capital of Japan. What a fabulous city! We left Friday evening taking the Meitetsu train to Nagoya, and the Shinkansen train to Kyoto. The Shinkansen are the bullet trains, which reach speeds of ~200mph and riding one is fun because you feel like you are gliding through space as everything out the window is a bit of a blur. We checked into our hotel and went out to ramen at a restaurant called Ramen Uzo Kyoto. It was a totally unique experience because everyone is sat at one large table in the dark and the back wall is a gigantic screen with artsy brush strokes playing. To accompany the art, there was elegant piano music. I had spicy miso ramen and matcha mochi ice cream, which was so good. Saturday, we rode bikes to Arashiyama Monkey Park Iwatayama to see free-ranging Japanese macaques. I just love how fluffy they are. The monkeys live up on top of a mountain, which is about a 25m hike from the Katsura river. I got to see several monkeys grooming, eating, hoping around and swimming in the pond. The pond has giant fish in it and the monkeys poke and try to grab the fish as they swim around. After seeing the macaques, we went to Shigetsu for lunch, which is a Zen vegetarian restaurant located at Tenryu-ji Temple. This was another exceptional dining experience. Bethan and I were seated on the floor in a private room and served all sorts of dishes: rice, purée soup, omelet in broth, tofu different vegetables (prepared in different ways), miso eggplant. To be honest, I had never seen most of the dishes and I am still unsure how they're called, but it was delicious, and I feel extremely privileged to have had such a wonderful meal. After lunch, we visited Tenryu-ji Temple and the surrounding gardens, and both were lovely. From there, we wandered over to the Arashiyama Bamboo Grove and walked through, looking up at the tall stalks, and feeling like ants.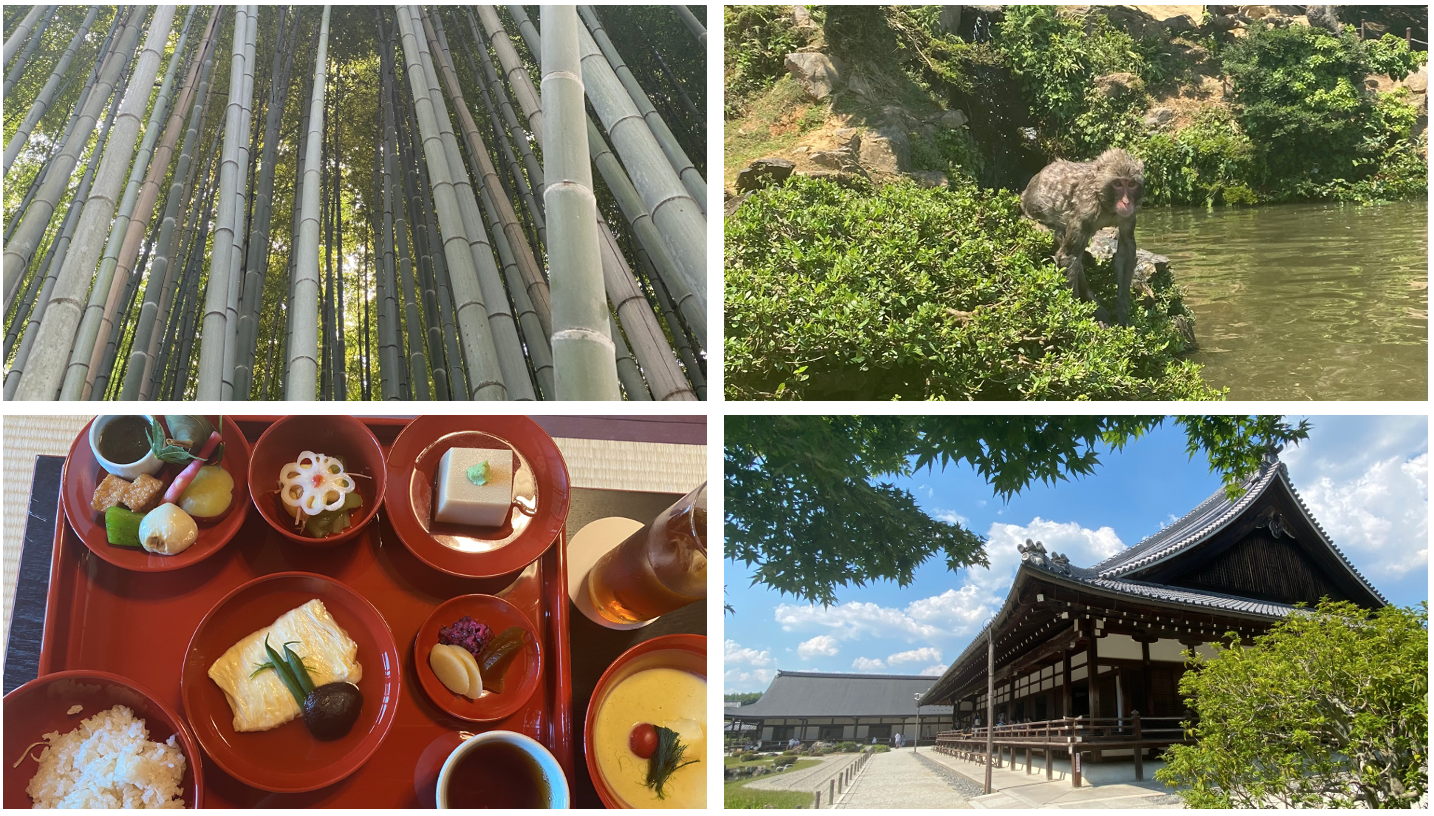 Sunday was a rainy day – like super rainy. We took a taxi to the famous Fushimi Inari Shrine, which was stunning and walked under the Torri gates as it poured. We had lunch at a restaurant called Ain Soph, which was a totally vegan restaurant that served "chicken" teriyaki among other things. I had this fantastic pineapple drink. From Ain Soph, we walked to the Kiyomizu-dera Temple. This temple is not only beautiful, but it is situated up on Mt. Otowa where you get beautiful views of the Higashiyama mountain range and the city. The road leading up to the temple is lined with all different types of boutiques from which you can buy ceramics, baked goods, trinkets and all types of fun stuff. From the temple, we walked back to Kyoto station and took the Shinkansen train back to Nagoya and from there, we took the Meitetsu train back to Inuyama. It was a fantastic weekend to say the least.

This past week, I have been collecting and editing more video clips for my experiments. I suspect that my project will be 80% preparing for experiments with chimpanzees and 20% doing experiments with chimpanzees. We're still working on organizing a special visit for me to the Tama Zoo to collect some footage of my own. I hope this works out! In any case, I am having a wonderful time and learning a lot along the way so I could not ask for more.
More next week!
Elaine
--
Elaine in Japan – JSPS Blog Post #3 - July 1, 2022
It's already my third week in Japan and time is going so quickly!
This past weekend I decided to relax a bit, especially because the heat here is so intense and exhausting! Friday evening, I had dinner and drinks with the other international students at an Izakaya restaurant called Sennen-no-Utage. Upon entering, customers remove their shoes and are sat in a private room with their party where they settle in for lots of eating and drinking. I overindulged in this sour lemon drink and tofu skins. Sunday, I went on a lone expedition to visit downtown Inuyama and Inuyama castle. The downtown area is beautiful. There is a main road with lots of boutiques and little groceries that sell everything from penny purses to cucumbers. There are also little restaurants where people can buy meats on sticks, ice cream, sushi, all kinds of items. One shop in particular stood out to me – the kimono rental shop. People come, get dressed up and spend the day shopping, walking around and eating in restaurants all in traditional clothing. The castle itself was fabulous. Like the Izakaya restaurant, visitors must remove their shoes upon entering. After climbing a series of very steep, large steps, visitors reach the top of the castle and step out to see stunning views of the river and the city.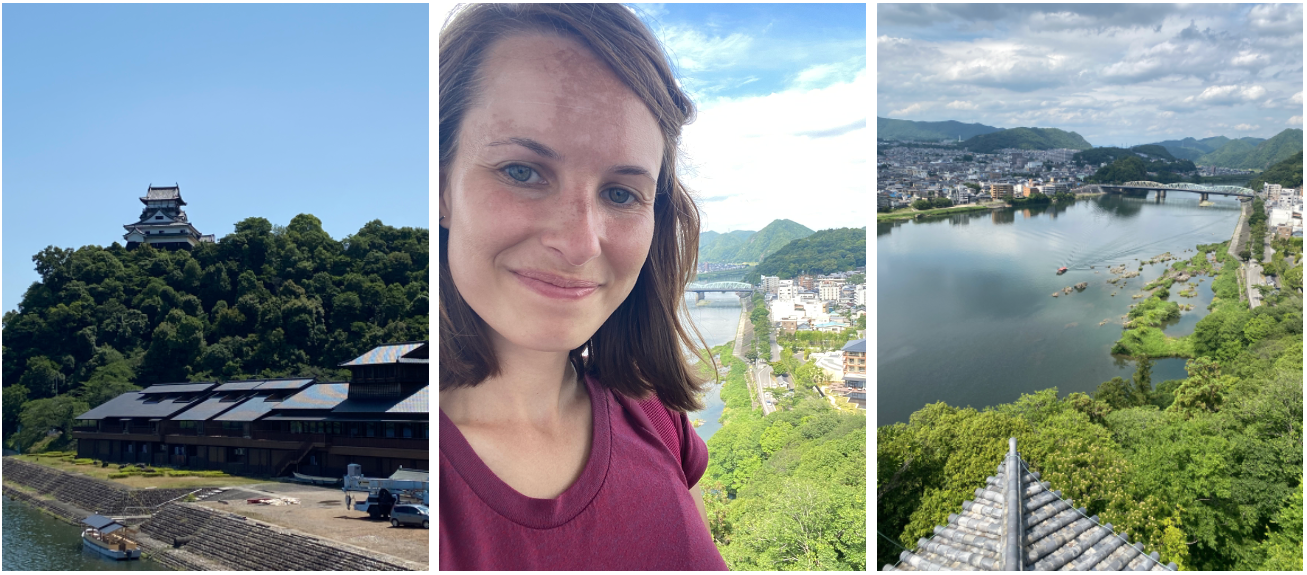 This week I have continued my efforts to find video clips to do my experiments with the chimpanzees. It's exceptionally difficult to control for the number of individuals in each clip, the ages of individuals, the actions they're performing and if these actions are social or self-directed. In any case, I am making good progress. All my video footage comes from Tama Zoo in Tokyo and therefore I would like to go to the zoo myself to collect some video. Fingers crossed I can make this happen! In the meantime, I still sit in on other students' experiments, which is always fun. I am slowly getting to learn the character of each chimpanzee here. For example, Akira, an older male individual tends to spill juice all over himself and on the floor, but he doesn't like to sit or step in it. This means that whenever he comes to do experiments, the experimenter sets up a special wooden stool with slots for him. This allows for the juice to run through the stool and down the floor away from him. In the photos, you can see him on his stool drawing, and you can see his final masterpiece.

Besides the chimpanzees, I am also meeting lots of interesting humans. Dr. Andrew Macintosh is a primate ecologist who specializes in studying parasites among other things. He also produces his own podcast called The Primate Cast to discuss all kinds of topics in primatology with notable experts. I totally encourage anyone with an interest in the natural world and especially primates to have a listen.
More next week!
Elaine
--
Elaine in Japan – JSPS Blog Post #2 - June 27, 2022
It's my second week in Japan and I am feeling more and more settled. I think learning more Japanese words will help, but Japanese is hard, and I am quite shy so this will take more time.
This past weekend I had a nice time with the other international students at EHUB and another JSPS fellow, Taylor. On Friday evening, the EHUB students and I got dinner, some drinks and hung out around the Kiso River, which is this beautiful landscape in Inuyama with lots of loud frogs. Saturday, I visited the Japan Monkey Center with friends from EHUB. We got to see so many primate species: gibbons, squirrel monkeys, baboons, spider monkeys, chimpanzees, colobus monkeys, ring-tailed lemurs, Japanese macaques, tamarins...
I spent Sunday in Nagoya, which is the 4th largest city in Japan. Taylor and I took the Meitetsu train to the city to visit the Higashiyama Zoo and Botanical Gardens. It's 6 miles from the train station and I insisted on walking because I like to visit cities by wandering around. In hindsight, it might have been a little too hot as I had to really resist the urge to jump in the fountains around the city. Besides getting some terrible tan lines, it was a wonderful day! At the zoo, we saw rhinos, kangaroos, sun bears, Japanese macaques, elephants, koalas, Japanese serows, hippos, and the famous tanuki. Tanuki are little carnivores that resemble a raccoon and have made their way into Japanese folklore. You can find little tanuki gnomes around Japan. One of the really fun attractions of the zoo is this pretty lake where you can rent paddle boats and cycle boats. There were lots of big fish in the lake too! After the zoo, we took the metro to the Osu Shopping District. It was pretty fun to see how style differs between American people and Japanese people. There were lots of shops with vintage clothes and remade clothes, and lots of old American style stuff. The most memorable item I saw was a used Lil Wayne shirt for the equivalent of $50.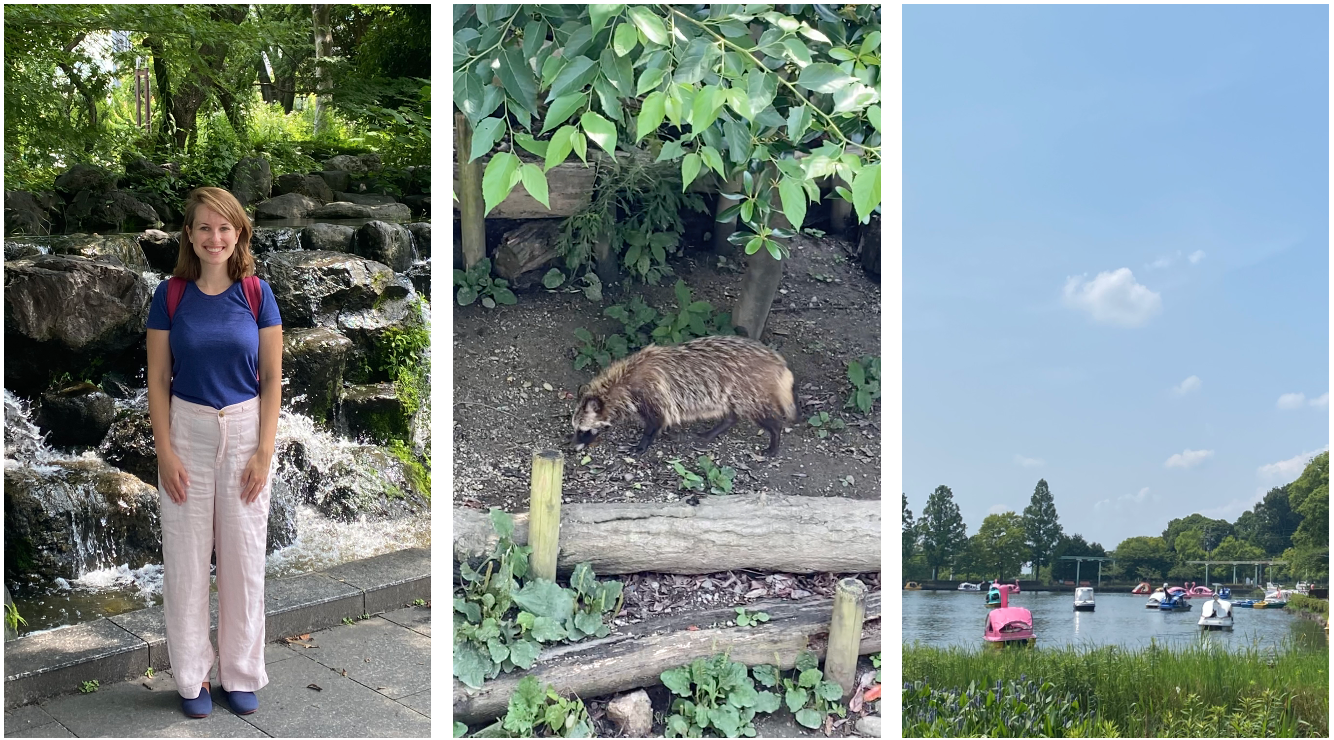 This past week I have been working on developing my project, which means I have been watching hours and hours of chimpanzee footage to make clips of specific behaviors to show the chimpanzees. Some clips feature chimpanzees engaged in social behaviors (i.e. social grooming) while other clips feature chimpanzees engaged in solitary behaviors (i.e. self-grooming). I hope they enjoy my choices for them! Besides working on my own project, I am learning a lot about the research performed here at EHUB. One student does eye tracking experiments to test if chimpanzees exhibit trypophobia, an aversion to objects with lots of holes. I actually think I might have this aversion. Another student does experiments to see how chimpanzees recognize different parts of their bodies. There's a lot of interesting projects here!
More next week!
Elaine
--
Elaine in Japan – JSPS Blog Post #1 - June 20, 2022
I can't believe it. I made it to Japan! I was very fortunate to be awarded a Japan Society for the Promotion of Science (JSPS) summer fellowship to work with Dr. Ikuma Adachi at the Center for International Collaboration and Advanced Studies in Primatology (CICASP). I have just arrived one week ago and in that time, I feel that I have already learned so much.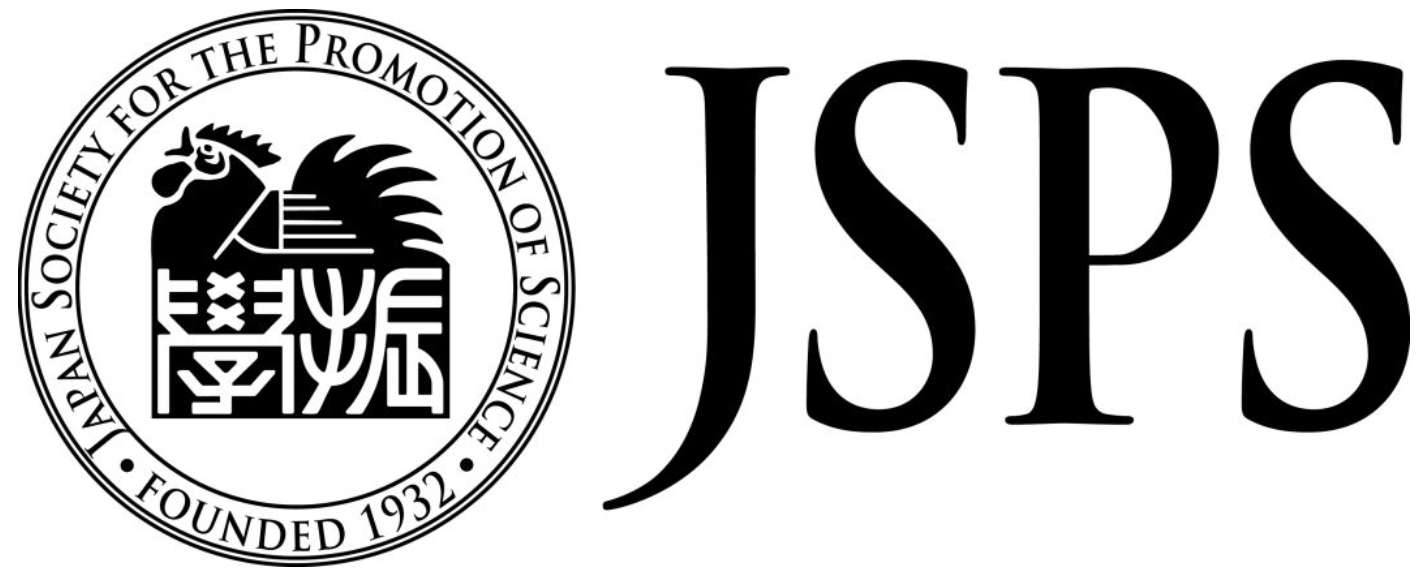 I traveled from Washington DC to Inuyama, Aichi. This trip included stops in Chicago (O'Hare), Tokyo (Haneda) and Nagoya (Chubu Centrair) and it took many hours – so many hours that I stopped in Nagoya to sleep. This was a good decision not only because I was very exhausted from travel and totally disoriented by the time difference, but because I got the best room in the Centrair Hotel at the Nagoya airport. It's called the Hello Kitty room and it was exactly that – a room of everything Hello Kitty. I am a 33-year-old woman and I loved it. From Nagoya, I took the Meitetsu train to Inuyama and arrived at my destination: The Center for the Evolutionary Origins of Human Behavior (EHUB). Adachi sensei picked me up at the train station and immediately introduced me to students, post-docs, and faculty – all who welcomed me so warmly. As exciting as it is to meet new people, I will admit that I was exceptionally excited to meet the chimpanzees. Ai is like a celebrity of sorts in the primate cognition world so it was a very special moment to see her.
I spent my first couple days of work settling in, eating at the fabulous campus cantine and joining other researchers' experiments with the chimpanzees and before I knew it, the weekend had arrived. I spent Saturday walking around my neighborhood, eating at a restaurant and shopping at the Yoshizuya store with another JSPS fellow, Taylor Papstein-Novak. On my way home, it started raining and because I didn't have the forethought to bring an umbrella, I started to get totally drenched. As I was powerwalking back to my dorm, a stranger pulled his car over, fished out an umbrella from his backseat and ran out in the rain to give it to me. I think this might be the kindest thing a stranger has ever done for me. I certainly wouldn't expect this type of generosity at home in Washington. Sunday was a marvelous day. A bunch of students from EHUB and I rode our bikes all the way to Gifu City from Inuyama to visit the Gifu castle. It was 25km out (the scenic route) and 20km back (the direct route). I don't usually ride a bike, so this was a strenuous ride for me, but it was totally worth the struggle to visit the gardens and see the castle. My favorite part was the Mt. Kinka ropeway, which is a little tram that carries you to the top of the mountain where the castle sits. Not only are the views amazing, but it also gave my tired little legs a rest after all the cycling.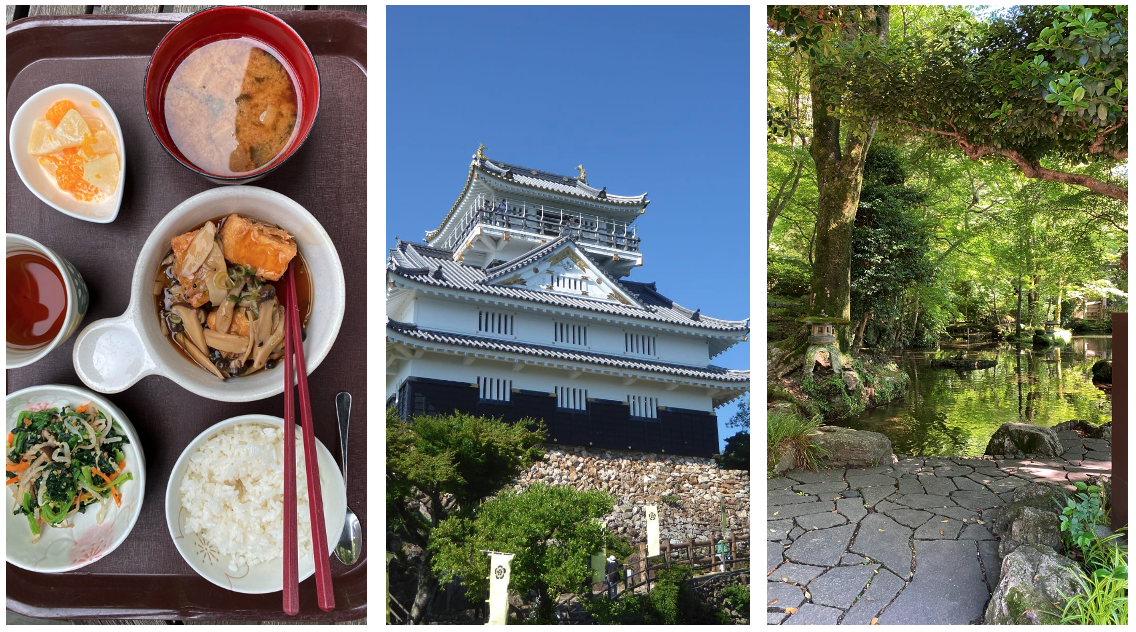 This week I have been working to develop my own project. In general, I am interested in the concept of "social rewards," which are a range of social stimuli (e.g. touch, smiles, praise) that activate brain circuits similar to other rewards (e.g. money, material goods). I am planning a project to test whether chimpanzees are more motivated to watch video content of other chimpanzees (e.g. chimpanzees grooming one another) or video content of environmental events (e.g. apple falling from a tree). I can't wait to start my experiments and see the results.
More next week!
Elaine